What you need to know about forms in React
Dealing with forms in React can seem intimidating. Luckily, I have written about a lot of aspects and tricks of doing just that. This page is a meaningfully ordered index of my articles about React forms, meant to act as The Forms Guide of React™ Get started with...
Basics
Just enough to understand the mechanics of working with forms in React.
Validation
Helping the user input correct data and providing instant feedback is important when building a form. Here's how React can help:
Forms & state
Questions related to modeling, storing, or accessing form state.
Dynamics
Book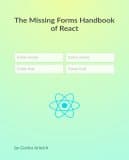 You know how you tear your hair out when your designer asks to make a nice form?
But what if you could implement the form experience your users deserve?
The Missing Forms Handbook of React can help you breeze through your React forms. You will learn how forms fit into the React model. And, you are going to see how to implement common form patterns and structures.
No spam. I will occasionally send you my posts about JavaScript and React.
Egghead
I'm also experimenting with recording some of my takes on forms in React in the format of short and to-the-point screencasts on Egghead.